Dynamic creatives enable you to create efficient, targeted advertising campaigns by utilizing data to inform specific elements within an individual creative. This includes promotional offers, sports scores, directions to a nearby retailer, stock prices, traffic patterns or local weather conditions.
Historically, supporting dynamic creatives at scale within digital out-of-home (DOOH) has been challenging due to custom requirements within each media owner's CMS/player. Our solution eliminates the complexity of supporting dynamic creatives at scale. Instead of having to develop a custom creative for each media owner, our dynamic rendering service will convert the creative into an image in real-time. This approach allows for maximum supply on a dynamic campaign, while also reducing the overhead required for setup and testing.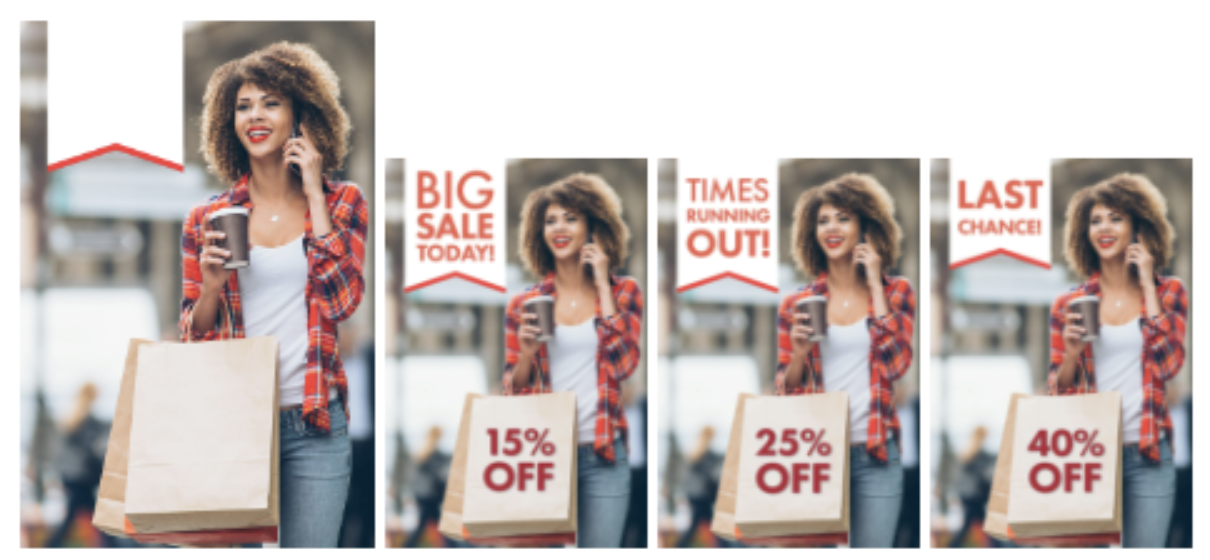 Vistar's dynamic creative solution
There are two components to Vistar's dynamic creative offering:
Dynamic rendering service: Technology that converts a dynamic creative into an image based on inputs defined in each creative. Our dynamic creative spec outlines creative requirements in order to be compatible with our rendering service.
Vistar's Creative Studio: In addition to the technology required to support dynamic creative at scale, we also offer creative design and building services to ensure your dynamic creative is built effectively for DOOH. Services include: design consultation and proposal, dynamic creative development, and access to 3rd party data feeds. For more information on pricing, please refer to the rate cards attached here.
Supported use cases
Below is a breakdown of our supported dynamic use cases. For use cases that rely on a third party data provider, you can reference the data providers we are currently integrated with.
If you have an upcoming use case not listed below, reach out to support@vistarmedia.com to discuss feasibility.
Use Case
Example
Data Provider
Market Availability
Nearest store & distance to store

Retail stores across apparel, tech,




  big box, grocery, accessories, etc. 

Telecom 

Financial Services - banking,




  insurance, fintech payments

Car dealerships

Shopper marketing tactics

QSR & casual dining 

 

Client provided

Global

Countdowns

("less real-time" countdowns —
i.e. daily changes leading up to an event or promotion)

Holiday shopping events: Black
Friday, Small Biz Saturday, Cyber
Monday, Countdown to Christmas

Sporting events: Super Bowl, World Cup, March Madness, etc.

Product launches: CPG, consumer electronics, technology, retail, Lottery (countups): jackpots

Entertainment releases: gaming,
streaming, TV shows, movies, etc.

N/A

Global

Regional Product Promotions

Limited time offers: QSR, CPG,

Retail, Auto

Shopper marketing - pairing CPG




  promotions with different retailers

Client provided

(Feasibility required)

Global

Weather in a Destination


Tourism - Pulling in temperature for a specific location into the creative

Global

Lottery

Lottery numbers and draw dates
Jackpot amounts

US, Canada

Live Sports Scores

 

Live scores for leagues listed here


US, Canada
Getting started
As we continue to evolve our dynamic offering, the Vistar team will provide support for all campaigns that include dynamic creatives. There are a few stages involved in this process:
Feasibility: Work with your dedicated Vistar rep to confirm your dynamic use case is currently supported.
Planning: Create your plan with Vistar's DSP and select the appropriate dynamic fee based on your budget tier.
Design: Provide design specifications or leverage recommendations from Vistar's Creative Studio.
Build + Test: Vistar's Creative Studio team builds dynamic creative and provides previews for final approval before activation.
Activation: Once campaign setup is complete, Vistar will upload and associate the final version of the dynamic creative, so campaigns can go live.